Mysterious Universe: Supernovae, Dark Energy, and Black Holes (Scientists in the Field Series) (Paperback)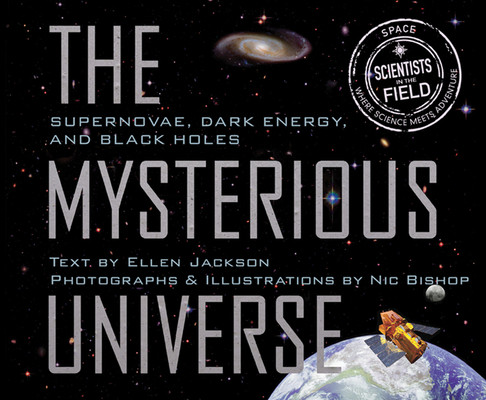 $9.99
Email or call for price.
Description
---
The universe is rapidly expanding. Of that much scientists are certain. But how fast? And with what implications regarding the fate of the universe?
Ellen Jackson and Nic Bishop follow Dr. Alex Fillippenko and his High-Z Supernova Search Team to Mauna Kea volcano in Hawaii, where they will study space phenomena and look for supernovae, dying stars that explode with the power of billions of hydrogen bombs. Dr. Fillippenko looks for black holes--areas in space with such a strong gravitational pull that no matter or energy can escape from them--with his robotic telescope. And they study the effects of dark energy, the mysterious force that scientists believe is pushing the universe apart, causing its constant and accelerating expansion.
About the Author
---
Ellen Jackson is the award-winning author of more than fifty fiction and nonfiction books for children. Like her father, an amateur astronomer, Ellen has been interested in planets, stars, and galaxies since she was a child. She remembers family "star parties," at which neighbors were invited to gaze through her father's telescope at an eclipse of the moon or other astronomical objects.

Nic Bishop, who holds a doctorate in the biological sciences, is the photographer of many acclaimed books for children. He lives in Auckland, New Zealand.Visit his website at: nicbishop.com  
Praise For…
---
"[This] handsomely designed volume displays the joys of being fascinated by one's work." 6/1-615/2008 Booklist, ALA

"Thoughtful design adds to the pleasure of this splendid invitation to explore darker corners of the universe." 5/1/08 Kirkus Reviews, Starred

"[A] sense of adventure that readers will feel as they join a team of researchers on science's biggest frontier." School Library Journal