Inside Out Pirate Ship: Explore the Golden Age of Piracy! (Hardcover)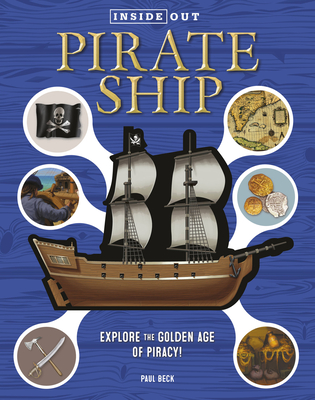 $14.99

Usually Ships in 2-5 Days
Description
---
Calling landlubbers and swashbucklers alike! Inside Out: Pirate Ship explores everything you need to take to the seas, from swabbing the deck to walking the plank. Alongside beautiful illustrations and photographs, an interactive die-cut model reveals the many nooks and crannies of the classic pirate ship.

Though piracy's golden age was in the 1700s, many still long for a life searching for treasure. From famous pirates like Blackbeard and Captain Kidd, to precious plunder like Spanish coins and colorful jewels, to the less glamorous tasks of climbing dangerous ropes or cleaning dirty decks, Inside Out: Pirate Ship takes you deck by deck into the scourge of the sea. Get a fascinating glimpse into how these crews lived, worked, and attacked. You will be amazed by everything from the sky-high crow's nest, to the billowing sails, to the teeny-tiny sleeping quarters.

When it comes to hidden treasure, there's always somewhere else to look!

The Inside Out series also includes: Inside Out: Human Body, Inside Out: Shark, Inside Out: T-Rex, Inside Out: Mummy, Inside Out: Horse, and Inside Out: Medieval Castle.
About the Author
---
Paul Beck writes about science and technology for readers of all ages. He has more than 15 years' experience writing nonfiction books for children and has authored more than 60 books on subjects ranging from architecture to history to zoology. His books include Uncover a Dog, Uncover a Cat, Skulls, and The Field Guide to Safari Animals. When not writing, he enjoys playing music and drawing moose cartoons. He lives in Portland, Oregon.