Maker Comics: Fix a Car! (Hardcover)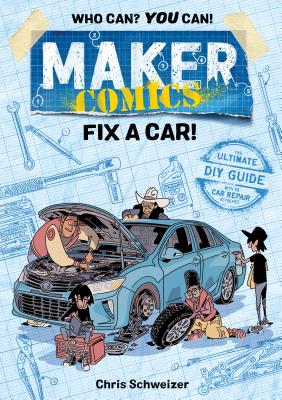 $19.99
Email or call for price.
Description
---
Maker Comics is the ultimate DIY guide. Inside this graphic novel you'll find illustrated instructions for ten car repair activities!

Lena, Mason, Abner, Rocky, and Esther only have one thing in common: They're crazy about cars. A few of them already have their driver's licenses. And even though Rocky and Esther are too young to drive, they still have a lot questions. In Car Club, Ms. Gritt has all the answers. When is the best time to check the oil? How do you change a tire? And why is Mason's car making that squeaky noise?

Before you get behind the wheel, learn what's going on underneath the hood. Follow along as Ms. Gritt covers all the basics of preventative maintenance and roadside repairs. Colorful diagrams illustrate the inner workings of complex parts and systems. With Maker Comics: Fix a Car! you can keep your automobile in tip-top shape!

Follow the easy step-by-step instructions and you can:
Create a portable tool kit
Check the oil and fluid levels
Maintain the battery
Replace the windshield wipers
Replace a drive belt or pulley
Change the oil
Change a flat tire
Wash and detail a car (and add a racing stripe!)
Change a taillight bulb
Jump-start a car
About the Author
---
Chris Schweizer has been a college professor, a hotel manager, a movie theater projectionist, a guard at a mental hospital, a martial arts instructor, a set builder, a church music leader, a process server, a life-drawing model, a bartender, a car wash attendant, a bagboy, a delivery boy, a choirboy, a lawn boy, a sixth-grade social studies teacher, a busker, a janitor, a speakeasy proprietor, a video store clerk, a field hand, a deck hand, a puppeteer for a children's television show, a kickboxer, and a line worker at a pancake mix factory. But now he's a cartoonist, and he likes that best. Chris is the author and illustrator of Maker Comics: Fix a Car! and The Princess of Rad Hats.
Praise For…
---
"Offering challenging but realistically doable projects and specific explanations of background chemical and physical principles, these engaging guides will leave no wrench or spatula safe from middle and high school students (not to mention more intrepid grade schoolers)." —School Library Journal