Apples Never Fall (Hardcover)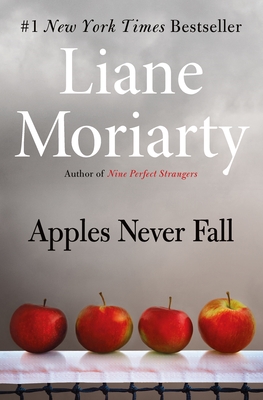 Staff Reviews
---
Dysfunctional family drama, a mystery, and tennis made for a game, set, match and win for me. Sorry as a tennis player, I had to do it (and just wait… there's more where that came from). A great exploration of perception versus reality as the image of a perfect family crumbles with all that comes out during the investigation of the disappearance of Joy, the mom. As you are given access to the innermost thoughts of all the family members with a shifting point of view narrative, it reinforces what we already know: love and family are complicated and decades of life together probably ends up with more moments of imperfection than anything else. There is always competition for love, attention, and priorities, which is going to leave one or more people feeling disappointed, left out, or misunderstood at any given moment. As the layers are peeled away and flaws are exposed, we are reminded of the messiness of family and being human. Moving between present day and the past leading up to the day of Joy's disappearance, you are bestowed with new sprinklings of information that leaves you questioning what is relevant and what is just distraction. And just when you think the story is done and you understand it all, Moriarity volleys a couple of unexpected shots that leave you scrambling to the alley as you try to figure out what just happened. A clever and engrossing story where tension is balanced with perfect moments of comedic timing. As some other reviews have said, be prepared for a slow burn build and then a rapid wrap up. However, I didn't mind. I was there for the character development and the journey. As a last aside, I appreciated the subtle and realistic references to the impending pandemic. I voluntarily reviewed a complimentary copy of this book, all opinions are my own.
— Cori
Description
---
#1 New York Times Bestseller

From Liane Moriarty, the #1 New York Times bestselling author of Big Little Lies and Nine Perfect Strangers, comes Apples Never Fall, a novel that looks at marriage, siblings, and how the people we love the most can hurt us the deepest.

The Delaney family love one another dearly—it's just that sometimes they want to murder each other . . .

If your mother was missing, would you tell the police? Even if the most obvious suspect was your father?

This is the dilemma facing the four grown Delaney siblings.

The Delaneys are fixtures in their community. The parents, Stan and Joy, are the envy of all of their friends. They're killers on the tennis court, and off it their chemistry is palpable. But after fifty years of marriage, they've finally sold their famed tennis academy and are ready to start what should be the golden years of their lives. So why are Stan and Joy so miserable?

The four Delaney children—Amy, Logan, Troy, and Brooke—were tennis stars in their own right, yet as their father will tell you, none of them had what it took to go all the way. But that's okay, now that they're all successful grown-ups and there is the wonderful possibility of grandchildren on the horizon.

One night a stranger named Savannah knocks on Stan and Joy's door, bleeding after a fight with her boyfriend. The Delaneys are more than happy to give her the small kindness she sorely needs. If only that was all she wanted.

Later, when Joy goes missing, and Savannah is nowhere to be found, the police question the one person who remains: Stan. But for someone who claims to be innocent, he, like many spouses, seems to have a lot to hide. Two of the Delaney children think their father is innocent, two are not so sure—but as the two sides square off against each other in perhaps their biggest match ever, all of the Delaneys will start to reexamine their shared family history in a very new light.
About the Author
---
Liane Moriarty is the author of the #1 New York Times bestsellers Big Little Lies, The Husband's Secret, and Truly Madly Guilty; the New York Times bestsellers Nine Perfect Strangers, What Alice Forgot, and The Last Anniversary; The Hypnotist's Love Story; and Three Wishes. She lives in Sydney, Australia, with her husband and two children.
Praise For…
---
#1 New York Times Bestseller

"Liane Moriarty hits an ace in Apples Never Fall." —The Associated Press

"Game, Set, Murder. . . . Liane Moriarty's next blockbuster novel Apples Never Fall [is] a high-wire act that blends marital drama, a long con, a potential murder—and competitive tennis. Everything Liane Moriarty touches turns to gold. . . . The Australian author's next project, which is already destined for the small screen, is a throwback to her best-known—and most beloved—material: family secrets."—Entertainment Weekly

"Moriarty tells a great story, understands her characters and cares about them, too. Readers who have kept up with her books will adore Apples Never Fall, and readers just discovering Moriarty will seek out her previous titles after savoring this fresh, juicy tale."— The Washington Post

"Do yourself a favor and read this ASAP 'cause it'll likely be everyone's next binge-worthy TV obsession by next year. The author of Big Little Lies and Nine Perfect Strangers returns with another unputdownable book about what it really means to be family."—E! Online

"[Liane Moriarty] cements herself as a master of mystery, using every detail in her tangled narrative web to keep the reader guessing until the final shocking twist."—Vulture

"Combines domestic realism and noirish mystery. . . . The structure follows the pattern of Big Little Lies by setting up a mystery and then jumping months into the past to unravel it. Funny, sad, astute, occasionally creepy, and slyly irresistible."—Kirkus Reviews (starred review)

"Moriarty is at her best. . . . No clue is left abandoned, not even in the chilling final chapter."—Booklist (starred review)

"Moriarty's flair for domestic dysfunction paired with mystery is on full display, and the symbolism of including a sport where love equals zero makes this read even more delicious. Apples Never Fall will be a grand slam with the author's fans and enchant new readers alike."—Sarah Gelman, Amazon

"I loved it. An absolute page-turner with all the wit and nuance that put Liane Moriarty head and shoulders above the crowd. Liane Moriarty shows once again why she leads the pack."—Jane Harper, New York Times bestselling author of The Dry and The Survivors

"Moriarty has an eye for the telling details that rivals Anne Tyler's—and a knack for building suspense. This tale of a tennis mom gone missing will keep you guessing."—People Magazine, "Best Books Fall 2021 Must-Reads"

"A wifty tale of domestic suspense, and a satisfying, layered family drama where the tension comes from the treachery of memory, the specter of generational violence and the effects of decades' worth of unspoken resentments that have curdled over time. . . . Moriarty once again shows her mastery with the inner working of women."—The New York Times Book Review

"Liane Moriarty devotees, rejoice!"—CNN

"Joy Delaney has gone missing — and her husband, Stan, seems like the most likely suspect. Two of their grown children think he's probably guilty, two think he's innocent, and everyone seems to be squaring off against each other in this delicious family drama."—New York Post

"With Moriarty's trademark humor and smart insights about families, this entertaining, twisty read will keep you guessing until the final page."—Real Simple

Must Reads for September:

Entertainment Weekly

Pop Sugar

People Magazine


Praise for Liane Moriarty's Novels

"A total pleasure."—The New York Times Book Review

"Funny and scary."—Stephen King

"Sharply intelligent."—Entertainment Weekly

"Like drinking a pink cosmo laced with arsenic."—USA Today

"Powerful."—The Washington Post

"God-smacking."—BookPage

"Irresistible."—People

"Superb."—Parade

"Gripping."—Oprah.com

"A wonderful writer."—Anne Lamott

"Expect lots of well-deserved interest."—Starred Booklist

"Simply exquisite."—Bookreporter

"Mesmerizing."—Family Circle

"Provocative."—Woman's World

"So, so good."—Jojo Moyes