Dava Shastri's Last Day (Hardcover)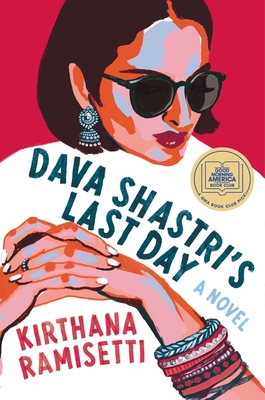 Staff Reviews
---
If you love complicated family stories, then I can almost guarantee that you will like this one. The premise fascinated me, but it was the characters and the story that really got me. Our near future is its present, and the moving back and forth in time to the family's past (our present and recent past) was a compelling and interesting timeline that makes it unique and stand out from other books that move around in time. It uses this movement throughout time to explore family structure and how our place in our family alongside familial expectations influence how we navigate the world and our interactions within and outside our family. This family is messy and flawed but also endearing and realistic. It examines our impact on the world and what we leave behind at the end of our lives, which is something I do think about although not on the scale explored here. Dava desires a bold, public, and lasting legacy on the world. Her motivation for a life-time of philanthropic work is from the heart, but we also learn it has not come without costs. And although well-intended, there is still a potentially selfish or self-indulgent component with her desire that her family ensure her legacy's perpetuity after her death. Understanding her motivations is a big part of what unfolds throughout. The thread tying it all together is a love of music and the references throughout gave it tremendous heart. 
— Cori
December 2021 Indie Next List
---
"I'm a fan of obituaries — a life whittled down to a handful of words reveals a great deal. In Dava Shastri's Last Day, we see the glorious backfire of secretly outliving your deepest secrets. Intriguing, fast-paced, thought provoking."
— Ashley Warlick, M. Judson Booksellers & Storytellers, Greenville, SC
Description
---
A GOOD MORNING AMERICA BOOK CLUB PICK

MOST ANTICIPATED IN FALL 2021 by TIME, The Washington Post, Bustle, Goodreads, and Debutiful • An Indie Next Pick • A Publishers Marketplace Buzz Book for Fall/Winter 2021 • Longlisted for the 2021 Center for Fiction First Novel Prize

In this thought-provoking and entertaining debut novel about of a multicultural family, a dying billionaire matriarch leaks news of her death early so she can examine her legacy—a decision that horrifies her children and inadvertently exposes secrets she has spent a lifetime keeping: "Full of music, magnetism, and familial obligation" (Emma Straub, author of All Adults Here).
Dava Shastri, one of the world's wealthiest women, has always lived with her sterling reputation in mind. A brain cancer diagnosis at the age of seventy, however, changes everything, and Dava decides to take her death—like all matters of her life—into her own hands.
Summoning her four adult children to her private island, she discloses shocking news: in addition to having a terminal illness, she has arranged for the news of her death to break early, so she can read her obituaries.
As someone who dedicated her life to the arts and the empowerment of women, Dava expects to read articles lauding her philanthropic work. Instead, her "death" reveals two devastating secrets, truths she thought she had buried forever.
And now the whole world knows, including her children.
In the time she has left, Dava must come to terms with the decisions that have led to this moment—and make peace with those closest to her before it's too late. Compassionately written and chock-full of humor and heart, this powerful novel examines public versus private legacy, the complexities of love, and the never-ending joys—and frustrations—of family.
About the Author
---
As a former entertainment reporter for Newsday and the New York Daily News, Kirthana Ramisetti has written her fair share of stories about the lives (and deaths) of the rich and famous. She has a master's degree in creative writing from Emerson College, and her work has been published in the New York Times, the Wall Street Journal, Entertainment Weekly, The Atlantic, and elsewhere. Dava Shastri's Last Day is her first novel, and she lives in New York City.
Praise For…
---
"A rich portrait of a family facing their powerful matriarch's death,
Dava Shastri's Last Day
is full of music, magnetism, and familial obligation. If 
Succession 
were about a multicultural family who actually loved each other, it might look like this."—
Emma Straub, author of All Adults Here
"Kirthana Ramisetti has written a sweeping saga and also a poignant story about sacrifice and the exacting price of secrecy. Cinematic and intimate, 
Dava Shastri's Last Day 
is an intricate story about family and love."—
Devi S. Laskar, Author of The Atlas of Reds and Blues
"Dava Shastri's Last Day is a story about ambition and greatness, wealth and family, full of secrets, love, and music, and those eternal pop song complements: heartbreak and hope. It's a gripping, deeply satisfying story about one woman's tremendous life—and the infinitely complicated ways we create our own legacies."
—
Kate Racculia, Author of Tuesday Mooney Talks to Ghosts and Bellweather Rhapsody
"Ramisetti beautifully weaves keen analysis of celebrity culture and a deep love of music into this perceptive, intergenerational story of resentment, trauma, love, and redemption. A page-turner with humor, heart, and lots of pop music."—
Jennifer Keishin Armstrong, New York Times bestselling author of Seinfeldia
"A hilarious and heartfelt narrative about legacy, power and privacy, all through the journey of a lively character who has limited time to make things right with the people she loves most."—
Time magazine
"Ramisetti draws nuanced characters who are introspective and entertaining. A solid debut that will appeal to readers who enjoy quirky family stories."—
Kirkus
"A thought-provoking family drama that will appeal to fans of
All Adults Here
by Emma Straub."—
Booklist
"Cinematic."—
Khabar