Homeowner's Complete Guide to the Chainsaw: A Chainsaw Pro Shows You How to Safely and Confidently Handle Everything from Trimming Branches and Fellin (Paperback)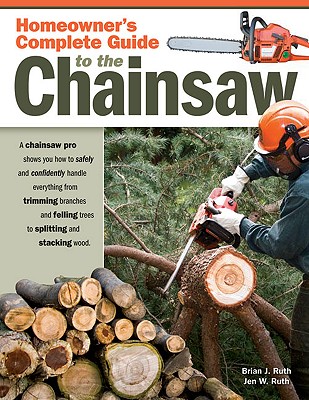 $24.95
Email or call for price.
Description
---
Essential Know-How to Safely Keep Your Yard Trimmed, Woodpile Stacked, and Chainsaw Running for Years to Come If you share your property with trees and large shrubs, you probably own a chainsaw-or are thinking of buying one. From cleaning up after a storm to trimming out-of-control hedges, chainsaws can make quick work of a multitude of landscaping jobs. But, as helpful and powerful as chainsaws can be, they are also extremely dangerous. You need to know how to safely and confidently use one-and The Homeowner's Complete Guide to the Chainsaw will show you how. With hundreds of photographs, illustrations, and step-by-step instructions in plain language, chainsaw experts Brian and Jen Ruth explain in detail everything you need to know to safely operate your chainsaw. You can learn more about Brian and Jen at their Websites: www.mastersofthechainsaw.com and www.chainsawchix.com.
Praise For…
---
"Lots of healthy attention given to safety. There are also excellent photos of the wrong ways to use the saw. Highly recommended.  Library Journal
"As an operator of chainsaws for 30 years, this is the most complete all-around book on the chain saw that I have read. I would definitely recommend it to anyone who has operated a chainsaw or is thinking of operating a chain saw."  Mike Sullivan, arborist, logger, and five-time World Hot Saw champion
"An instructional manual that shows readers how to safely and confidently handle trimming branches and felling trees to splitting and stacking wood."  Woodshop News
"Brian Ruth has established himself as one of the best performance chainsaw carvers in the world. His performances are like watching a ballet. His precise moves, his well-thought-out designs, and his love for what he does is a joy to watch."  Jessie Groeschen, author,
Art of Chainsaw Carving
"An instructional manual that shows readers how to safely and confidently handle trimming branches and felling trees to splitting and stacking wood."  Woodshop News