Blood in the Asphalt, Prayers from the Highway: Noir Edition (Paperback)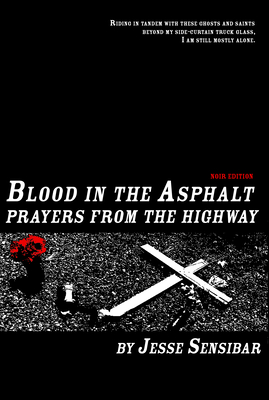 $19.00
Email or call for price.
Description
---
Literary Nonfiction. Art. BLOOD IN THE ASPHALT, PRAYERS FROM THE HIGHWAY: NOIR EDITION chronicles a lifetime spent as a tow truck driver on the lonely highways of the American Southwest. Jesse Sensibar explores reinvention and resurrection through his photographs and his linked collection of short stories, mourning and celebrating loss, gratefulness, and forgiveness. A shrine to the Virgin Mary and a crude cross honoring a dog are portrayed with equal brevity in the photographs, while narrations skip through time and recall hitchhikers, old friends, drunks, car accident victims, junkies, and fitness trainers. Winding through Arizona, California, and Mexico, Jesse Sensibar contemplates his need to record roadside shrines, grieve the numerous former lives one person can live, and succumb to the pull of a highway that gives and a highway that takes away. In this disappearing American West, the ghosts and saints of the highway keep watch over the weary travelers compelled to document and remember.
We are so often moving at breakneck speed, and this book is that rare thing: a quiet, commanding voice saying stop. Stop, and notice. You'll never get it right if you try to explain.--Carolyn Guinzio
Sensibar's narratives of highways and the memorials he finds on them are as deeply rooted in narrative as crosses dug into the banks on the side of the road and yet as lyrical as the angels Sensibar hopes touchdown upon the remains of what the highway took away. This book will make you feel like driving the open road makes you feel: melancholy, heartbroken, happy, and free.--Nicole Walker